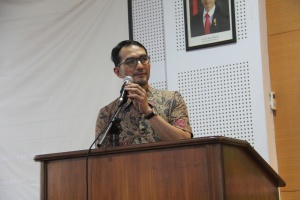 Pada tanggal 29 November 2018, Program Studi S1 Rekayasa/Teknik Kimia menyelenggarakan kuliah tamu dengan pemateri Prof. Dr. Helmut Erdmann. Beliau berasal dari Hochschule Flensburg University of Applied Sciences, Jerman. Materi yang disampaikan dalam kuliah tamu adalah "Detection of Contaminants in Food and Feed". Kuliah tamu ini dihadiri oleh seluruh mahasiswa Teknik Kimia, dosen Teknik Kimia dan beberapa tamu undangan.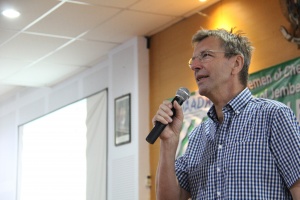 Acara ini dimulai tepat pukul 08.30 WIB. Acara kuliah tamu ini diawali dengan pembukaan yang dilanjutkan dengan menyanyikan lagu Indonesia Raya. Boy Arief Fachri, S.T., M.T., Ph.D., selaku Kaprodi Teknik Kimia memberikan sambutan sekaligus membuka acara kuliah tamu. Acara dilanjutkan dengan acara inti yaitu penyampaian materi oleh Prof. Dr. Helmut Erdmann dengan moderator Rizki Fitria Damayanti, S.T., M.Sc., Ph.D. Materi yang disampaikan meliputi teknik apa saja yang dapat digunakan untuk mendeteksi kontaminasi mikroba pada makanan dan cara pencegahan dari kontaminasi tersebut yang meliputi filtrasi, cara penyimpanan dan teknik-teknik lain untuk mencegah kontaminasi tersebut. Hal ini dikemukakan karena sangat berhubungan dengan kebutuhan pangan dunia.

     Banyaknya pertanyaan yang diajukan oleh peserta menunjukkan antusiasme dari peserta. Penyelenggaraan kuliah tamu ini diharapkan dapat menambah pengetahuan bagi seluruh mahasiswa maupun dosen Teknik Kimia mengenai deteksi kontaminasi yang dapat diterapkan dalam industri pangan. Acara ini berakhir pada pukul 12.00 WIB dengan penyerahan vandel oleh Kaprodi Teknik Kimia kepada Prof. Dr. Helmut Erdmann dan berfoto bersama dengan pemateri.